Well, I managed to get through all of the Phantoms BluRay caps. One word: *ROWR!* And in BluRay, its double *ROWR!* ;)
one of my all time favorite Sheppard caps comes from Phantoms and in BluRay well... *GUH*
The cap in question: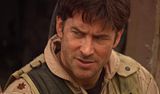 The theme of the day was action. There were some action shots I always wanted to cap, but never could get anything even approaching decent (because the scene was fast moving) before BluRay. I've included some of those as well. I think they're awesome shots, even if they aren't the clearest. but the clear ones... oh my! Also can really notice the different lenses and even some "grainy" looks used in filming this episode that Martin Wood talks about in his commentary. If you've never listened to the Phantoms commentary, its worth listening. Fascinating to hear MW talk about his use of lenses and camera angles.
Anyway, I babble. The best of the rest of Sheppard under LJ cut. There are *ahem* a lot of them. ;)
Be sure to click the thumbnails more than once. Some are quite large. Enjoy!
(
Collapse
)