Joe as at Con in Sweden this weekend, looking for new pictures of the Flan!
In the meantime, I dug in my archives and went back to LA Con 2010, Joe's last appearance in LA. And it looks like Creation has axed the Stargate portion of that Con now too. Weird. According to Creation, after this year, they will only do one Stargate con a year - Chicago. *shrug* The Stargate cons always seemed well attended to me.... huh.
Anyway, Joe at LA 2010. Gawd! GUH!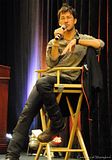 The rest under LJ cut. Clickable thumbnails. Thanks to my good friend
montybird
and her awesome camera for the images!
(
Collapse
)