There's something about Pilot!Shep...
Or Shep in a flight suit for that matter. ;)
Today's selection is Flight Suit Shep. I'm particularly fond of the flight suit from EatG. Nice and snug and accentuates the arms and broad shoulders. *happy sigh*
And then there's the other things the flight suit accentuates...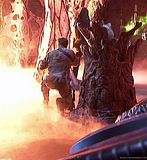 ...but I'll leave that up to your imagination. ;)
(
Collapse
)